报 名 信 息
时间地点
2017年10月14日( 周六 ) 浙江省宁海县
组别
1. 100公里个人组
2. 50公里 个人组
报名时间
第一阶段报名 / 4月18日10:00 至 5月18日18:00 第二阶段报名 / 7月18日10:00 至 9月15日18:00
请注意:报名截止时间即为付款截止时间,各阶段截止时间后仍未付款将无法获得参赛名额。
参 赛 条 件
(一) 18周岁至65周岁 / 1952年10月14日(含)- 1999年10月14日(含)出生
(二)身体健康,长期参加跑步运动或具备一定训练基础。无高血压、心脏病史及其他不宜剧烈运动的疾病。
名 额 及 报 名 费
名额总计1400人 / 100公里组500人 / 50公里组900人。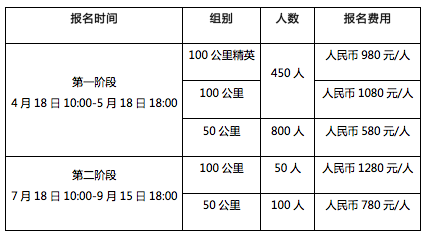 备注
一、 100公里精英组别,凡满足以下任一条件的选手报名均可优先确保名额:
A. 2017年Ninghai Classic 七小时内完赛;
B. 2016年宁海越野挑战赛(100公里)完赛;
C. 2016年宁海越野挑战赛(42公里)七小时内完赛;
D. 2015年宁海越野挑战赛(50公里)七小时内完赛;
请选择"100公里精英组"进行报名,系统将会自动识别符合条件者,报名付款须在规定时间内完成。如不满足以上条件的报名者请选择"100公里个人组"进行报名。
二、 优惠名额:
A. 2016年宁海越野挑战赛100公里&42公里组男女冠军可以获得免费名额(不限组别);
B. 2017年Ninghai Classic 50公里组男女冠军可以获得免费名额(不限组别);
C. 2017年Ninghai Classic、2016年宁海越野挑战赛志愿者可以获得50公里组别8折优惠名额。
请发邮件到service@skyviewsport.com申请优惠,并在5月18日即第一阶段报名截止之前完成报名缴费。
赛 道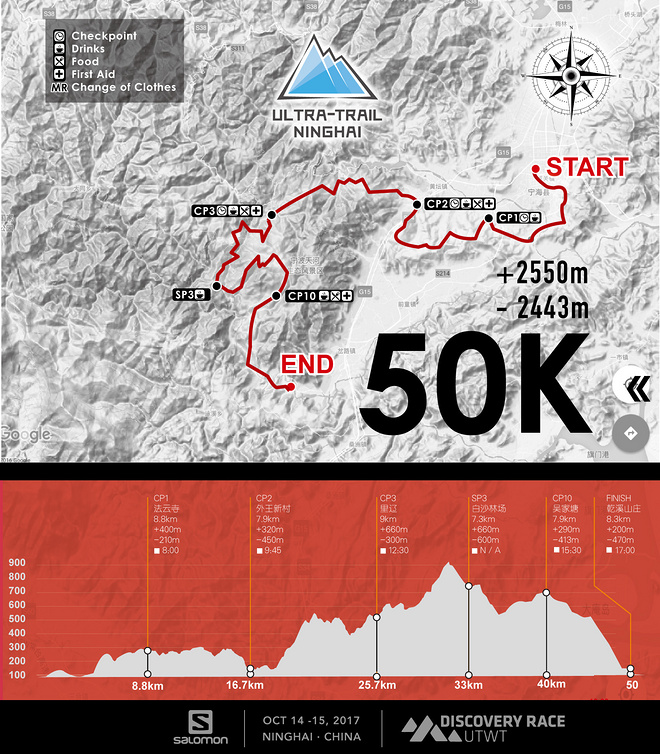 报 名 流 程
1. 进入赛事官网的报名页面
2. 选择参赛项目
3. 阅读并签署免责声明
4. 填写报名资料
5. 直接进入支付流程
6. 报名成功
无 法 参 赛
1. 报名成功的选手,若无法参赛,将不予退还报名费且不在赛后邮寄赛事包。
2. 所有组别的参赛名额均不可转让。若发现任何人使用他人号码参赛,此号码选手及代跑者将被取消参赛资格,并不能参加主办方今后的任何赛事。
赛事包领取
赛事包领取:
10月7日-8日:
1. Salomon南京太阳宫跑步店:江苏省南京市玄武区太平门阳光路3号 Salomon跑步店
2. Salomon北京新奥天虹跑步店:北京市朝阳区湖景东路9号新奥天虹购物中心B2 Salomon专卖店
3. Salomon杭州嘉里城跑步店:浙江省杭州市下城区延安路385号杭州嘉里中心[3]幢L425层
4. Suunto上海合生汇店:上海市杨浦区翔殷路1099号1层Suunto
5. Salomon上海无限极荟跑步店:上海市黄浦区湖滨路168号L1-W16单元
10月13日:
6. 宁海西门城楼:宁波市宁海县徐霞客大道与西郊路路口
其 他
更多信息请关注公共微信号 "Skyviewsport" 和新浪微博 "穹景体育"
若有任何疑问,请联系:service@skyviewsport.com
Registration Information
Time & Venue
October 14th, 2017 Saturday at Ninghai County, Zhejiang Province
Distances
1. 100 km
2. 50 km
Registration Time
First stage: 10:00 on April 18th to 18:00 on May 18th
Second stage: 10:00 on July 18th to 18:00 on September 15th
Please note that all payments must be completed by the time of registration closed for each stage. Entry slot will not be reserved for anyone if the payment is not completed by the time of registration closed.
Requirements
1. Adult from 18 to 65 years old ( born between October 14th 1952 and October 15th 1999 )
2. Healthy. Having good knowledge and experience of running or physical exercise. No hypertension, heart disease history or any other disease, which is inappropriate for strenuous exercise.
Entry Limit and Registration Fee
Total entries 1400: 500 entries for 100km distance, 900 entries for 50km.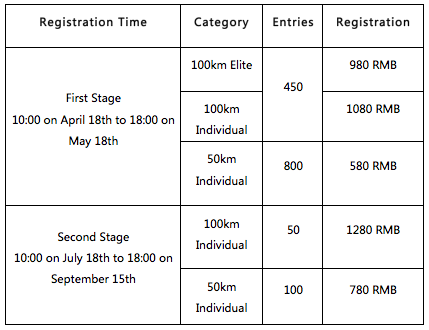 Please note :
A. Applicant who meets any of the following 100km elite criterias will be guaranteed an entry slot:
1. Completed 2016 UTNH 100km.
2. Completed 2017 Ninghai Classic within 7 hours.
3. Completed 42km of 2016 UTNH within 7 hours.
4. Completed 50km of 2015 UTNH within 7 hours.
Note: Please select "100km Elite" category to register, the system will automatically recognize who meets the criteria, payment must be completed by the time of registration closed. Anyone who doesn't meet the elite criteria, please select "100km Individual" to register.
B. Preferential places
1. Male and female champion of 2016UTNH(100km or 42km) and 2017 Ninghai Classic(50km) can obtain free places(not limited to the group).
2. Volunteer of 2017 Ninghai Classic or 2016 UTNH can obtain 20% discount(only for 50km group).
Please send email to service@skyviewsport.com to application offer,payments must be completed by time of registration closed for first stage.
Course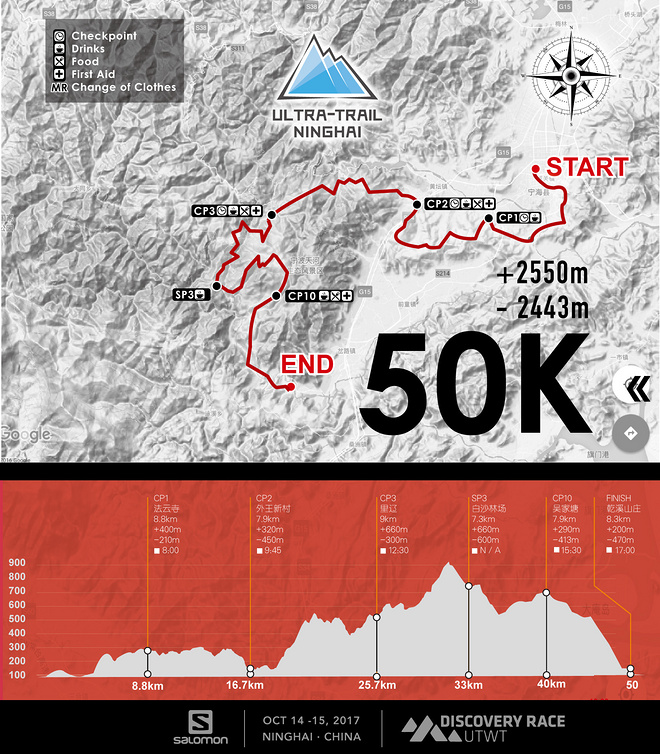 Registration Procedure
1. Log into Registration page of the official website
2. Select race category
3. Read and agree the race waiver
4. Fill in registration information
5. Payment
6. Registration successed
Withdrawn & Transferal
No refund if you cannot attend the race for any reason after the registration. We will not arrange race packet delivery for you. All entries are not transferable. If anyone found of racing with another's race bib, both individuals involved will be disqualified and both will not be allowed to participate in our future races.
Race Packet Pick-Up
Oct 07\08:
1. Salomon Nanjing Sun Palace Theatre Store:
No.3,Yangguang Road Nanjing Sun Palace Theatre South Side Huanlang F1 Xuanwu
2. Salomon Beijing Xin'ao Tianhong Branch Store
Hujing East Road No.9 Rainbow Department Store B2 Chaoyang,Beijing
3. Salomon Hangzhou Kerry Centre Store:
Hubin Shangquan Qingchun Road Kerry Centre 3 Building L425 Xiacheng,Hangzhou
4. Suunto Shanghai Heshenghui Store:
Xiangyin Road No.1099 Heshenghui F F1 Yangpu Shanghai
5. Salomon Shanghai Infinitus Store:
Hubin Road No.168 L1-W16 Huangpu,Shanghai
Oct 13:
6.Ninghai West Gate:
Xuxiake Avenue and Xijiao Road Junction,Ninghai County

Info to Provide for Rigistration
Name. Gender. Nationality. Residing City. E-mail. Mobile Number. Identification Type. Identification Number. Emergency Contact Person and Contact Phone Number. Race Packet Pickup Location.
For more information, please follow WeChat account "Skyviewsport"and Sina Weibo account "穹景体育". Please feel free to contact us at service@skyviewsport.com for any questions you may have.