明州,四明山,李白,也曾走过,爱过,将其一生过得像一首诗。
溪口,商量岗,蒋宋,京华烟云,百年一叹,再也回不去的故乡。
一场百英里,一条唐诗之路,虐过,恨过,来寻找一座心中的山。
48小时,以春游的名义,用越野跑的方式,向未来开启全新世代。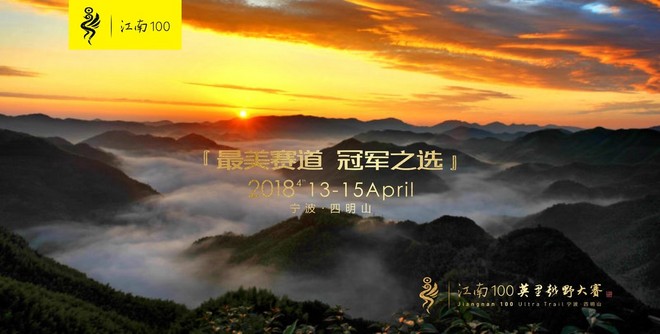 2018"江南100英里越野大赛"是长三角首场百英里赛事,源于江南100越野赛,是第四届举行;为江南100系列赛之一, 是江南地域特色风情浓郁的超级马拉松;是UTCT中国越野跑之旅巡回赛事;ITRA认证赛事、UTMB 积分赛事。将于2018年4月13-15日,樱花盛放的花期,在宁波市区举行。
比赛设置4个路程组别:168km/110km/85km/50km,另设陪跑者100km/65km。
巍巍四明山,横亘八百里,峰锦岭秀,溪谷纵撗,竹海浩翰,樱花烂漫。四明山有着七千年河姆渡文化,是华夏远古文明发源地,养育了王羲之、谢灵运、王阳明、严子陵等古代贤才。李白杜甫白居易等大批诗人倾慕四明山水而来,咏出了著名的"唐诗之路"。比赛起终点位于宁波市奉化区溪口镇,有着千年历史,也是蒋介石的家乡,保存大量完整民国时期文物建筑,是值得一游的民国风情古镇,也是一条"民国之路"。
赛道穿越溪口古镇、雪窦山、千丈岩、三隐潭等5A级风景区,沿途瀑布绝壁美不胜收,犹如置身画境之中。有全国唯一的玻璃观景台CP点,途径茅镬古树林、大岚镇七彩山丘,远眺丹山赤水。有全国最广、最集中的万亩樱花林,穿越杖锡樱花公园,走进"樱花之路"。在破晓时分攀登四明山主峰,挑战宁波最高峰青虎湾岗,在晨光熹微之时翻越"第二庐山"美誉的商量岗、草甸覆盖的华盖山防火道。不仅穿越十多个传统古村落,遍布古桥古驿站,也有极虐的陡峭岩石防火道,80度绝望坡,60度屁降坡。这是一条兼具美景、美人、美食的"三美赛道",还能体验到江南传统文化。2016年被评为"爱燃烧年度最美赛道"。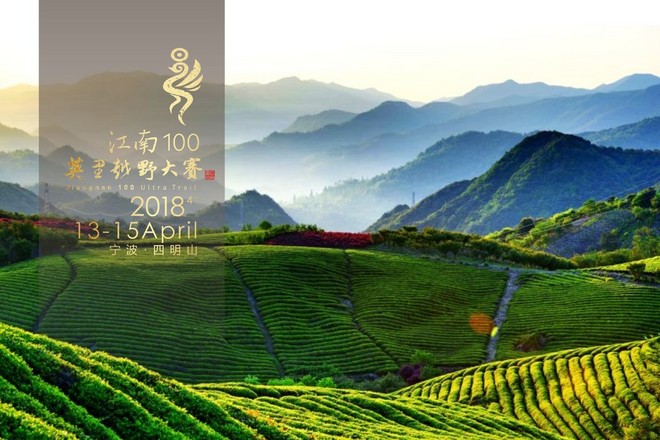 赛事名称:2018年江南100英里越野大赛
指导单位:宁波市奉化区体育局、宁波市四明山区域办
主办单位:江南100、宁波市长跑协会
协办单位:宁波市奉化区溪口旅游集团有限公司、余姚市大岚镇人民政府、
余姚市四明山镇人民政府、宁波市海曙区章水镇人民政府、
余姚市户外运动协会、杭州比戈体育、中日韩小铃声
装备赞助:Patagonia
技术伙伴:越野在现场、芯时体育
合作伙伴:门派、杭马会、浆果跑者社区、明日公益
媒体支持:爱燃烧、最酷、东软赛客、知行合逸、马拉马拉、跑步指南
官方网站:www.jn100trail.com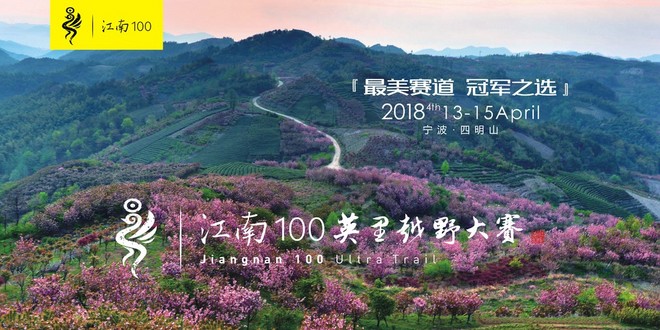 168组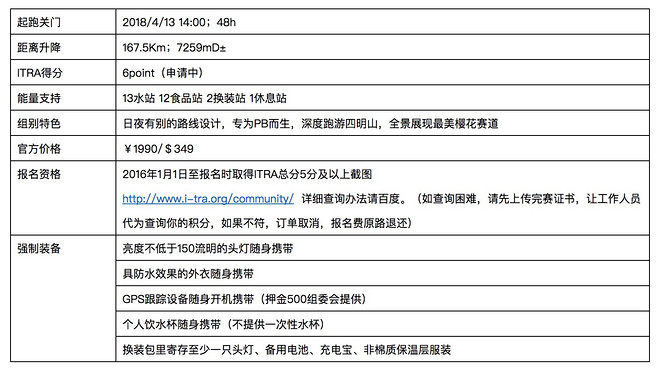 168陪跑组(100K)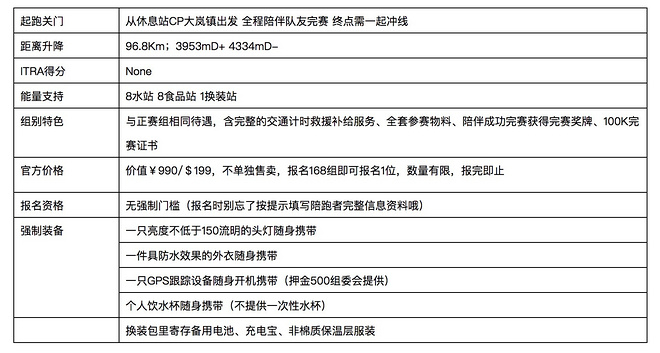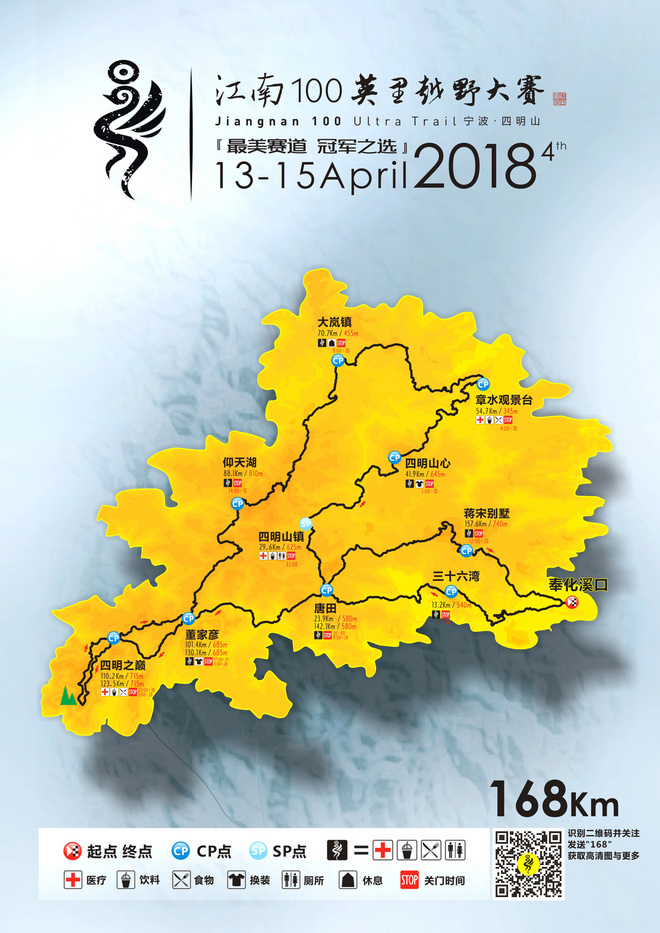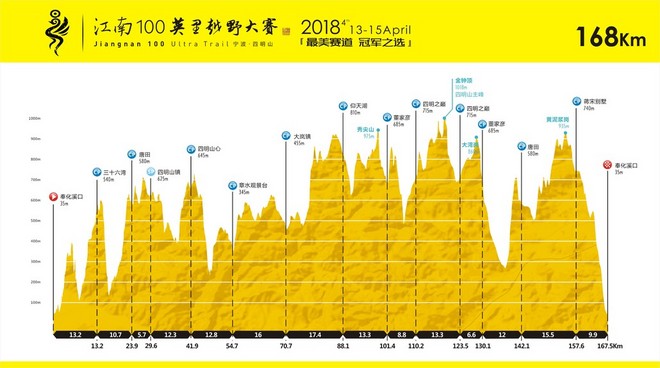 110组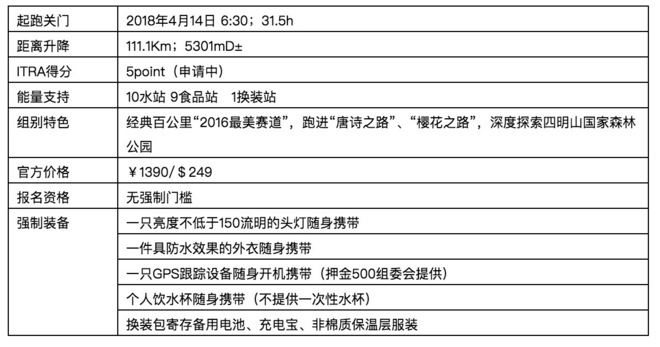 110陪跑组(65K)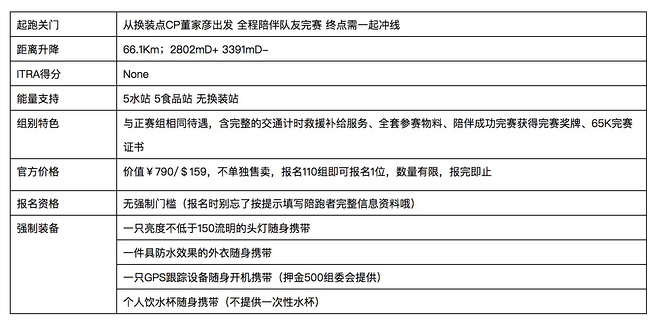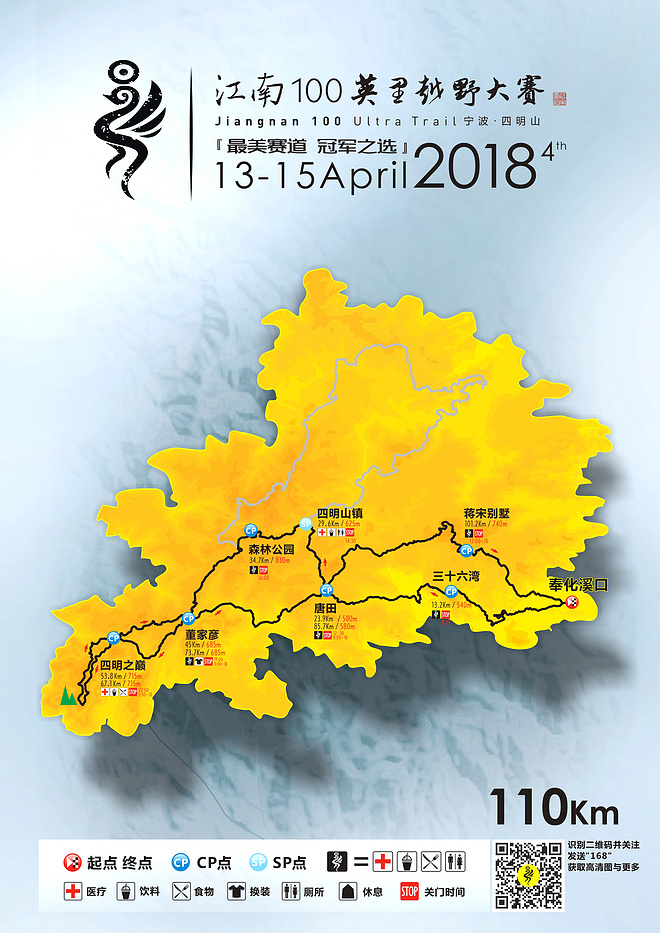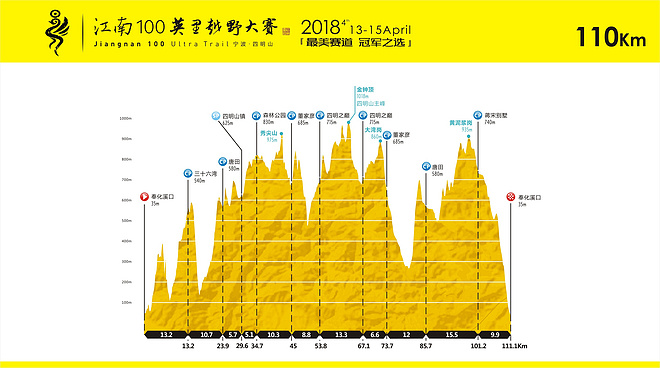 85组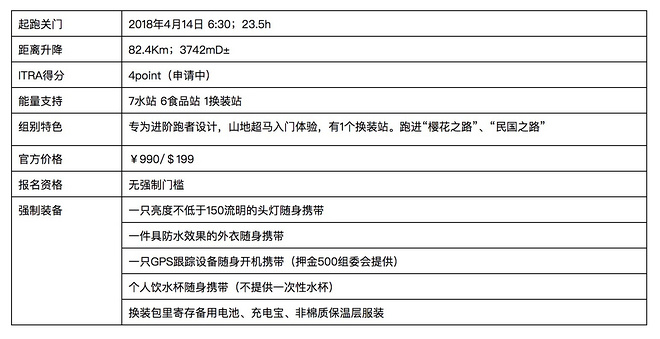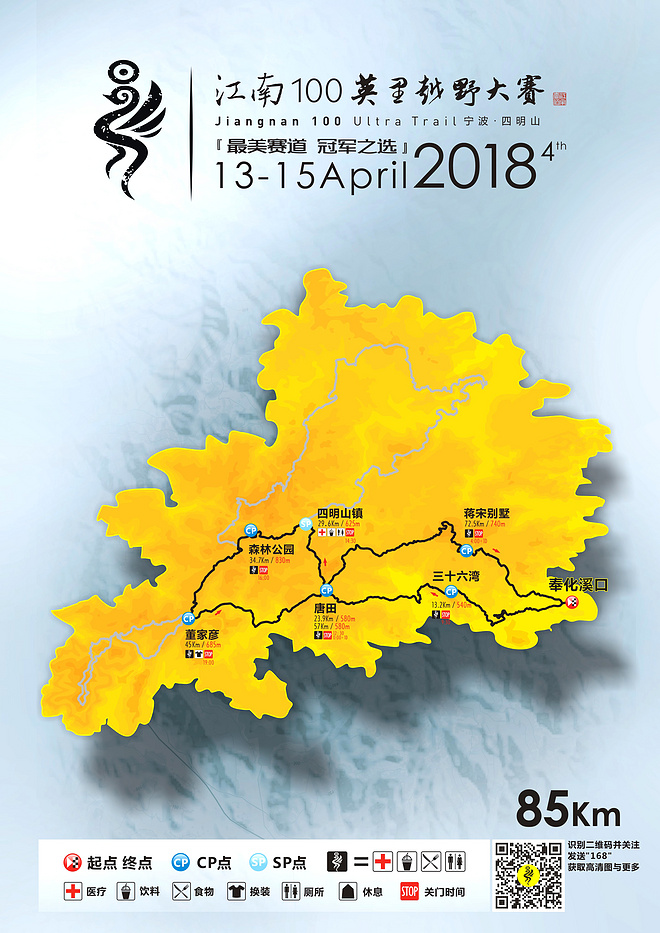 50组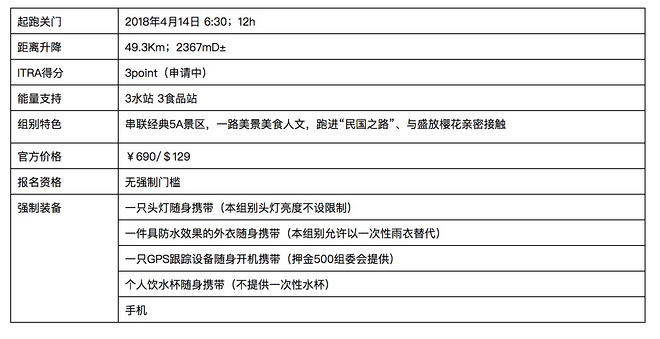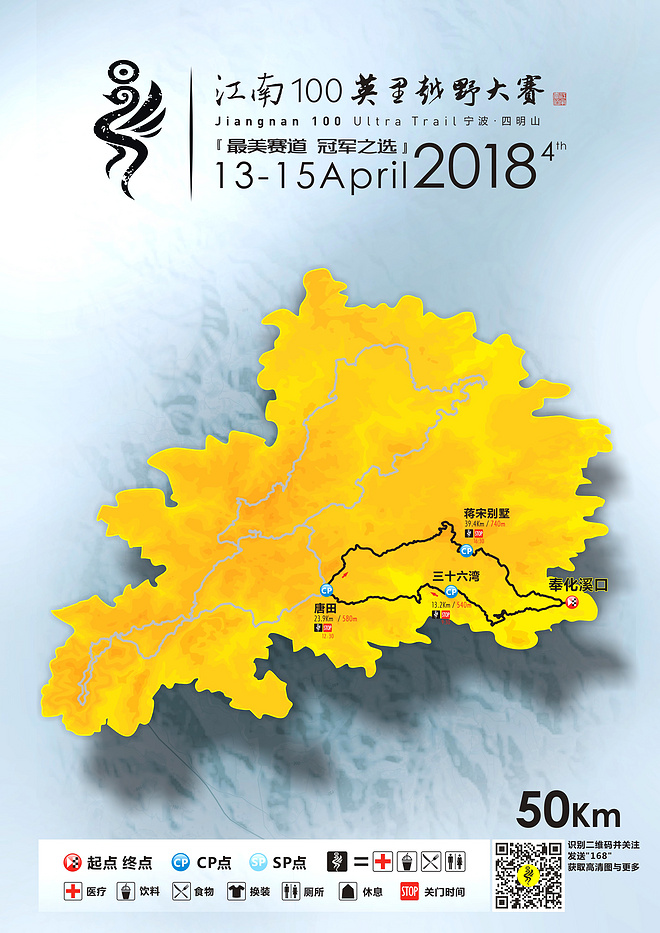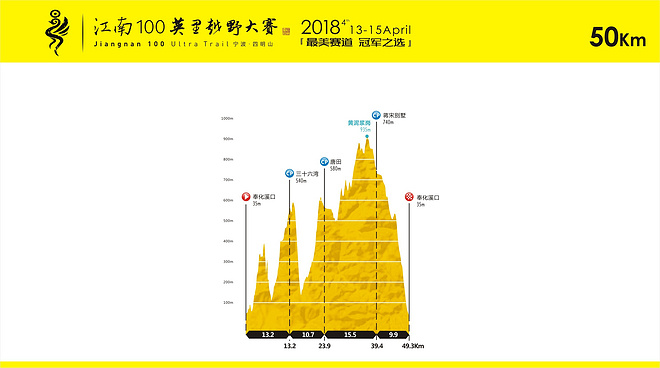 1、团报政策咨询江南100公司:江南100组委会工作人员,电话:15867265782,微信号:jn100xls
邮件地址:zrzhu@jn100trail.com
2、2018年2月21日至2月28日统一接受退款,可退款报名费的50%。过期恕不予退还。电话15867265782(微信同号);邮件地址 zrzhu@jn100trail.com。不允许名额转让和组别更改。参赛包可代领(为防止替跑,不含号码布与计时芯片),不邮寄。
3、报名的选手(已付款或未付款,欲报名或想咨询),可搜索微信公众号:"江南100系列赛",编辑发送"江南168",获取交流群二维码,扫码入群。注:不符合发言规则或交流初衷的群成员将被管理员移除。
4、各组别ITRA积分认证中,以ITRA最终审定结果为准。各组别赛道距离和海拔升降会因动线个人差异、计量设备差异而与公布数据有差,误差已尽力最小。
5、比赛期间将根据实际情况设置若干流动补给车,具体食物和部署地点不予告知。
6、因恶劣天气、自然灾害、政治军事等不可抗力原因,组委会保留暂停、中止、取消、改期比赛等应急措施,望周知。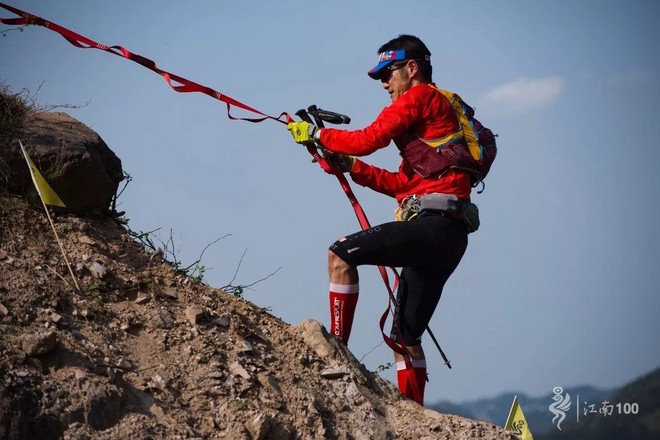 1、参赛选手必须完全沿着赛道标记前进。严禁抄近路。
2、168组、110组、85组选手,可以在换装寄存包中寄存个人食物,也允许分享其它选手。陪跑者允许携带私补。
3、参赛选手必须按要求携带强制装备。赛事期间会有装备检查。不符合者强制退赛。
4、检查站的所有补给仅供佩戴号码布的参赛选手与佩戴专属号码布的亲友伴跑者使用。为公平资源,谢绝其它人员消耗补给品。
5、号码簿必须全程置于衣服前端外侧,醒目可见。
6、参赛选手中途退赛必须通知赛事工作人员,并就近签署退赛表格。
7、若参赛选手在赛道上需要急救,请务必拨打号码簿下方电话联系赛事工作人员。
8、在关门时间前不能到达检查站将会被剥夺继续比赛资格。
9、确保自身与他人的安全。照顾其他赛道使用者。横穿村庄、公路或在公路上跑步时注意安全,防止家禽家畜、犬只的侵害。
10、赛事组委会保留在适宜情况下对赛事规则、赛道或其它安排作出调整的权利。任何此处未提及的规则均由江南100组委会负责解释。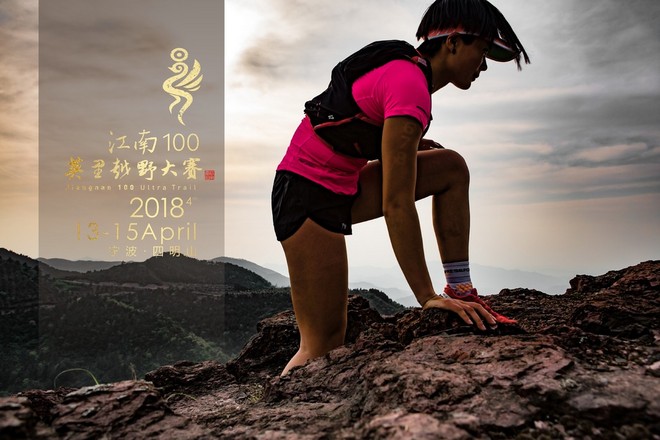 168组、110组、85组、50组男女前三名各获冠、亚、季军奖杯和奖品;完赛就获得精美完赛奖牌、168组和110组为完赛衫、85组和50组为完赛马甲。陪跑者记录完赛成绩、发放完赛证书、完赛奖牌、完赛马甲,但不参与排名奖励。
高铁飞机均能直达。详情请搜索江南100官网《交通与住宿 江南100英里越野大赛》:http://jn100trail.com/article?id=28854&mid=6118
合作酒店预定及参赛包领取等信息,将于赛前发布于官网与官方微信公众号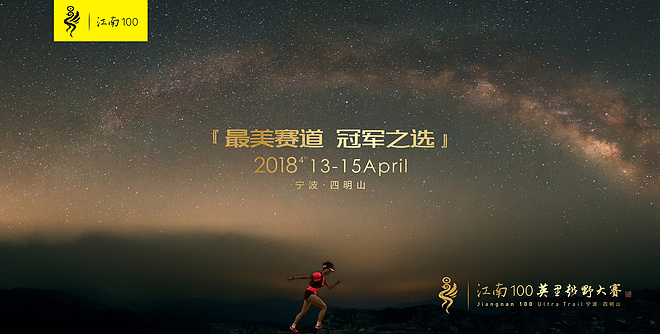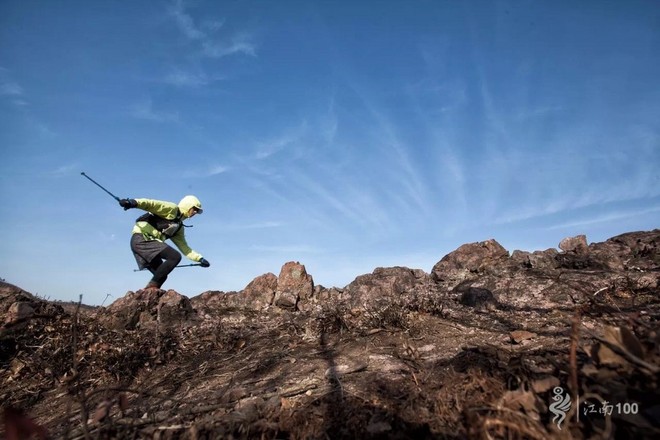 Event Overview
JN100 Ultra Trail 2018, which is full of style of south area of Yangzi River, is one of the JN100 series, one of UTCT envent, and is the ITRA authorized and UTMB qualifying race.
The fourth JN100 Ultra Trail will take place on April 13th to 15th, 2018 in Siming Mountain, Ningbo, Zhejiang Province
Four Groups for the Race: 168km/110km/85km/50km
Offical websites www.jn100trail.com
Brief Introduction
Ningbo Siming Mountain is the birthplace of 7000 years Chinese ancient civilization of Hemudu Site, is also the blessed spot of Taoism. It has nurtured many talents, such as Wang Xizhi, Xie Lingyun, Wang Yangming, and Yan Ziling. Lots of poets like Li Bai, Du Fu and Bai Juyi, who were attracted by the splendid scenery of Siming Mountain came here and opened up the famous Tang Poetry Prosperity. Runners will experience marvelous scenery and culture during this trip.
The starting and finishing points located in Xikou Town, Fenghua, Ningbo, Zhejiang Province, which is the hometown of ChiangKai-shek, with thousand years history. The race starts at the foot of the Xuedou Mountain, along the ancient path, and finishes on the top of the mountain. Xuedou Mountain is the ashram where Maitreya Bodhisattva meditated and practiced. Runners can bless safety and health when seeing the 56 meters high bronze statue of Maitreya Bodhisattva along the race track.
The race track passes through National 5A Scenery Sites like Qianzhang Waterfall and Sanyintang Waterfall. Waterfall and cliffs along the race road are really beautiful, just like running in a painting.
Chiangs former residence in Xikou town, Maitreya Bodhisattva ashram in Xuedou Mountain, National 5A Scenery Sites like Qianzhang Waterfall and Sanyintang Waterfall, Thousand acres of cherries and red maples, Main peak of Siming mountain, Qinghuwangang (the highest peak of Ningbo), Shanglianggang named as the second Lushan Mountain, Primeval forest, Ancient villages with bamboo forests, bridges and streams, Steep rock firebreak and slope.
The scenery will definitely get your attention.We expect that you can meet the extraordinary yourself when running through the splendid scenery in the east of Zhejiang.
Transportation &Hotel
Coach: from the South Transport Station to Xikou town, coaches set off every 15 minutes from 6:30 to 18:40
a.Buy coach ticket in the South Transport Station near Ningbo Railway Station. There is a though coach to Xikou town.
b.Take a subway from Ningbo Lishe International Airport to Ningbo Railway Station. Then go to the South Transport Station and take a coach to Xikou town.
Taxi:
a.Distance between Ningbo Lishe International Airport and Xikou town is about 28km, 80 yuan for taking a taxi.
b.Distance between Ningbo Railway Station and Xikou town is about 35km, 100 yuan for taking a taxi.
Xikou town is an ancient town for tourism. There are hundreds of hotel within 3km far from starting and finishing points.
The Schedule
April 13th, Pick up the event package and early check in in Xikou Hotel Fenghua
April 13th, 1:00PM,168Km Late Check in, Bag Drop, Race Briefing, Warming-up
April 13th, 2:00PM,168Km Race Start
April 14th, 5:30AM 110Km 85Km 50Km Late Check in, Bag Drop, Race Briefing, Warming-up
April 14th, 6:30AM,110Km 85Km 50Km Race Start
April 15th,2:00PM,Finish
Registration and Funds
168Km ¥1999/$349
110Km ¥1399/$249
85Km ¥999/$199
50Km ¥699/$129
Mandatory Gears
Running shoes, Mobile phone, Capacity to carry water at least 1L (water bladder or water bottles), Headlamp (except 50km group), Warm jacket, Survival blanket, Garbage bags.Suggested Gears: Alpenstocks, Sunglasses, Gloves, Hat, Waterproof jacket
Achievements and Rewards
The first three of each group of male / female will win the trophies and prizes.Competitors finishing the race can get finishing medal, JN 100 souvenir T-shirt. Competitors in 100km group finishing the race can get JN 100 souvenir hoody.
Rules and Regulations
1. Competitors must follow the course markers at all times. Short cuts are strictly prohibited.
2. Competitors cannot take any food and support outside the checkpoints except in an emergency.
3. Competitors must carry the mandatory gears at all times during the race. Random gear checks may be performed during the race. Any failures of carrying mandatory gears will result in a penalty.
4. Refreshments at the checkpoints are served for competitors only.
5. Bib numbers must be visible at all times on the outside of clothing at the front.
6. If you withdraw from the race, you must inform event staff and sign the release form at the closest checkpoint (unless assisted from the course by the event staff).
7. If you need any first aid help on the course you must contact the event staff.
8. Any failures of arriving at each checkpoints and the finish line before the cut-off times will result in disqualifications from the race.
9. Competitors must follow the outdoor ethics of LEAVE NO TRACE.
10. Ensure your own safety and that of others. Be considerate of other trail and road users at all times. Take great care when crossing or running on roads.
11. If another runner is injured or in distress, please assist. The event organizer will gladly deduct from your finishing time any time spent assisting an injured or distressed fellow competitor.
12. We highly recommend that competitors have their own insurance cover.
13. The event organizers reserve the right to make changes to the event rues and requirements, course and/or other arrangements, as they deem appropriate.
14. Any rule that is not mentioned here will be controlled by the decision of JiangNan 100 Co.,Ltd organizing
Youtube Video
Jiangnan 100 Ultra Trail 2017 BY DJI Aerial Photography
(视频外链地址为:http://v.saihuitong.com/723/video/289210/15b71d5532b.mp4 )
2017 Jiangnan 100 Ultra Trail, 2017 江南100越野赛 Upload by NING DU, from Youtube
(视频外链地址为:http://v.saihuitong.com/723/video/10923/15fe45ac4e4.mp4)
官方视频
Promotion Video
2018年赛道3D视频 ↓
(视频外链地址为:http://v.saihuitong.com/723/video/10923/15fe3c7358b.mp4)
2018年宣传片 ↓
(视频外链地址为:http://v.saihuitong.com/723/video/10923/15fe41f25f0.mp4)
2017宣传片 ↓
(视频外链地址为:http://v.saihuitong.com/723/video/10923/158a9fa5612.mpg.mp4)
2017纪录片 ↓
(视频外链地址为:http://v.saihuitong.com/723/video/10923/15b8e1875bf.mp4)
2018年纪录片?
我们,宁波,等你!
更多详情和赛事请持续关注官网www.jn100trail.com
微信公众号(江南一百系列赛)